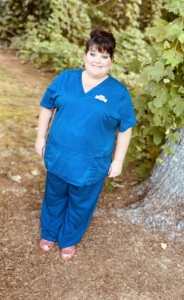 Angie joined our team as a receptionist in June of 2018. She was drawn to this field due to her love of pets and people. The part of her job she enjoys most is seeing all the sweet babies get well when they have been sick and loves the new opportunities each day brings. Angie's favorite breed is a Labradoodle because they are spunky, sweet, and cuddly all in one!
An interesting fact about Angie is she is a super proud mom of a Airman with the USA Airforce!
Angie's family includes her boyfriend Mike (they were childhood sweethearts at the age of 14 but lost contact for 22 years and have now found love together and plan to marry one day!), two children Alixandria and Jacob, three amazing grandchildren, and a sweet dog Maggie Mae (who is just as spoiled as the three grandchildren).
Receptionist at Wayside
Years in Practice: 2