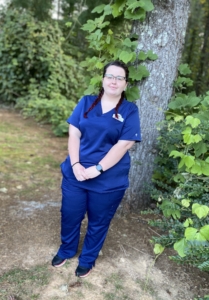 Jacqueline joined our team as a Receptionist in September of 2020. She was drawn to the veterinary field due to her desire to help pet's live a happy and healthy life. While Jacqueline loves all animals if she is forced to choose one it would be Mastiffs. She thinks they are giant teddy bears.
One fun fact about Jacqueline is that she loves to go hiking and take road trips to new places.
Jacqueline resides in her snazzy new house (exciting milestone) with her boyfriend of almost two years, Shawn, as well as two mini dachshunds, Adler and Zero and a mastiff mix named Athena.
Receptionist at Wayside
Years in Practice: < 1 Year