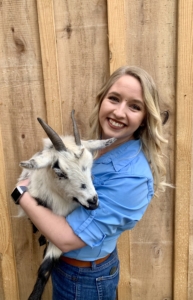 Dr. Kelly Flanagan graduated from the University of Florida College of Veterinary Medicine in
May 2021. She graduated with a Food Animal Medicine Certificate and an award for Rural
Animal Medicine Proficiency during her clinical year. Dr. Kelly's most cherished
accomplishments during her time at UF CVM include coordinating hands-on learning
opportunities for students with local food animal veterinarians as the college's Food Animal
Club President and conducting research on parasite resistance of small ruminants.
She has a true passion for working with both farm animals (cattle, goats, horses, sheep, and
pigs) and household four-legged family members. Her interests include preventative herd
health, emergency medicine, and surgery.
Dr. Kelly is a member of the Georgia Veterinary Medical Association (GVMA), American
Association of Bovine Practitioners (AABP), American Associate of Small Ruminant Practitioners
(AASRP), and American Veterinary Medical Association (AVMA).
Dr. Kelly shares her home with her rescued pets, Dixie (dog) and Tiger Lily (cat). In her free time,
she enjoys going to the beach, running cross-country, and spending time with family. Dr. Kelly is
excited to join the Wayside Animal Hospital team and is looking forward to providing quality
veterinary care to both the large and small animals of our community!.
Years in Practice: 1
Education: University of Florida College of Veterinary Medicine